Just to let you know, I'm not blogging a whole lot at this time, due to not being in a "good" place right now, where family is concerned. We have an impending death looming upon us and I'm the so-called glue trying to hold my family (in my house) together. Though I *know* in my mind that this is not the end of the proverbial road, my heart is breaking at the thought of the impending loss and what it's doing to my husband and my two of three kids.
With that said...
Another week has started. What better way to kick it off on a Monday that to participate in the Magical Monday blog hop, courtesy of
For The Love Of Blogs
!
But before you run over there and see who all is participating, feel free to also ADD YOUR LINK HERE! But please limit the blog links to
PARANORMAL blogs *only*
. Thank you.
Now, be sure that
BEFORE
you head over to..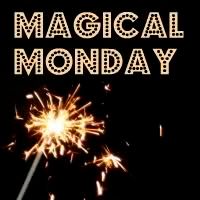 ...to add your link (below) in my link-up tool area! Have a great Monday, everyone.